DJ's Print and Promo
Looking for a specific item or just browsing for ideas? We can help you put your logo on just about any product. DJ's Print and Promo is your one-stop shop for promotional products, printing and business gifts. Our extensive range of promo products will ensure you find something to suit your requirements.
We are also a full service print provider. We print business cards, brochures, flyers, posters and even blue prints.

With 1000s of selections, DJ's Print and Promo offers branded merchandise to fulfill all of your needs.

Put our knowledge about promotional products to work for you. With high quality promotional products, fast delivery times, and prices to fit all budgets, we will provide customized, relevant recommendations for you. Simply take a look around or contact us now and we'll do the shopping for you!
Featured Item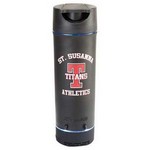 Zoom® Audio Flask
The Zoom® Audio Flask rocks out with an 18 oz. capacity to keep you hydrated. It boasts a removable, light-up, Bluetooth speaker that blasts your favorite soundtrack to keep you motivated and supports...
$37.08 - $46.73
What Our Customers Are Saying

Debbie is not only reliable but great to work with and goes above and beyond for her customers. She has a great attitude, is quick to respond, and it has been a pleasure to work with Debbie on many pr...
Signature Showrooms